Are you looking for a place to buy soccer cleats? Well, there are many retailers and suppliers dealing with soccer sportswear where you can get your pair from. But have ever tried going online? That is what we are specifically going to focus on in this post.
For many years soccer cleats can be found in local sports shops, retailers such as supermarkets and the specific brand outlet also sell soccer brands. However, the world is rapidly changing and more people now prefer doing their shopping online given its convenience and fast delivery. Online stores easier for soccer lovers to find the best boots in the most expedient way.
Unfortunately, these online shopping does not give you the advantage of having to try the pair before you can pay. Besides that, with hundreds of brands and models of sports shoes available finding the right pair can be challenging. If you are going to do your shopping online it means you are required to be extra careful. With little or no care, you end up purchasing what is not good for you. Here are few things to consider to end up with the right pair.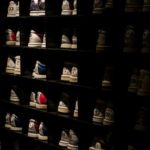 Consider making your purchase from a reliable site like r-gol UK. Even with the convenience associated with online shopping, the internet is one place you should tread with a lot of care. For one, it is full of scammers and unreliable sites which out to corn you the little you have. I am pretty sure the last thing you will ever want when shopping for your cleats is getting corned or getting a fake pair for the authentic Nike boots you ordered. So be careful with the website and source from where you buy.
Have your measurements and shoes size right.
Here you may need to order a high number than what you wear considering that many brand manufacturers design narrower cleat designs. The basic thing, however, is knowing your feet type. For example, if you have wider feet select a pair size that will fit your feet.
Choose an online with the return policy. When making your purchase online you real for sure aren't sure about the pair you are buying not until it has reached you.
A good online retailer should make it possible to return the pair for an exchange refund if they don't meet your demands. As well you can opt for a cash on the delivery option where you only pay after the shoes have been delivered.
Check for feedback from previous customers.
Customer reviews are also vital in determining where you buy from. The reviews can be about specific sports gear such as Nike boots, other sportswear like jersey or just about general information about the store. The reviews and general feedback will also help you decide on what type of cleats works best for you.
Keep the receipt safely.
Online transaction sometimes is very risky. And since you are not sure of what will happen in the future it good keeping the receipt as long as you can. If you have got tracking numbers for delivery of goods make sure you safe keep them.